Hood Canal occupies 150 square miles of the Olympic Peninsula and bellies up to the Olympic National Park. It's home to thousands of species of fish and marine mammals and invertebrates like orcas, oysters, and wild octopi while providing habitat to an array of seabirds. There's hardly a better way to take it all in than on a sailboat.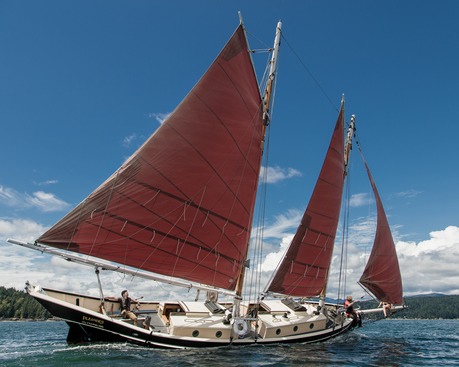 360-898-2145 | hhodges@olympiaschoonercompany.com
Set sail on a journey of romance and adventure. Choose from any of our standard tours or let us assist you in building the perfect itinerary. Our 1830s "Pinky Schooner" named Pleiades sails with up to 6 guests. Our crew will always include a Licensed Captain and qualified First Mate.
Guests are encouraged to bring their favorite food and beverages. Catered meals and amenities may be provided depending on cruise length and guest wishes.
Forty year veteran sailor and Pleiades skipper, Captain Jon Prins summed up his feelings on sailing in Hood Canal, "When I take the boat out in the evening, rounding the Great Bend, and open up to that vista that greets us – that is the most beautiful spot in Puget Sound as far as I'm concerned."
Though there are many factors that come together to make a good photographer—gear, dedication, understanding of theory, etc.—the one elusive quality that boosts George Stenberg's craft into the upper echelon is timing.
A weekend warrior is a 21st century beast whose population seems to be exponentially growing. As the "rolley chair blues" epidemic proliferates across the Pacific Northwest, so does the drive to combat it with an epic 48-hour adventure.