Hoodsport was first settled by ship captain, G. K. Robbins, who logged and farmed this area's wealth of natural resources. Today, his legacy lives on in Hama Hama Oyster Company, owned and operated by his descendants, and an obligatory stop on any oyster lover's journey. Nearby, among plumose anemones, wolf eels, and giant pacific octopus, SCUBA enthusiasts from all over the world discover the diving mecca near Sound Rock. Further inland, the unparalleled natural beauty of Lake Cushman is a short hop, skip and a plunge from the Skokomish River.
Lodging
Hoodsport, WA
Well-stocked fully restored 1930's beach cottage, right at the water's edge. With 315' of oyster rich no bank waterfront on a sheltered cove, everyone will have fun! Sleeps six, studio style, patio and outdoor grill.
$$ - $$$ | Dining Nearby; kitchen equipped
Hoodsport, WA
Diver Friendly! Spacious, cozy great room with two private bedrooms. Only two miles from Hoodsport, five miles from Sund Rock & Octopus Hole. Rinse tank and lines for scuba gear. Affordable "base camp" for exploring Olympic National Park & Forest, 15 minutes away. Cushy couches, Wifi, TV with Netflix. No stove but microwave, hot pot, toaster oven and crock pot for cooking. Two bedrooms, living room, kitchen and washer/dryer.
Rates: $ | Dining: nearby
Hoodsport, WA
This two bedroom cabin sleeps up to seven and includes waterfront access as well as own hot tub and sauna. Launch your kayaks from the beach or borrow the onsite rowboat for a paddle. The 9 1/2 foot row boat includes oars and life jackets (4). Also available are mooring buoy, outdoor fire pit, rope swing, and a beautiful stream.
$$ - $$$ | Dining nearby, well stocked kitchen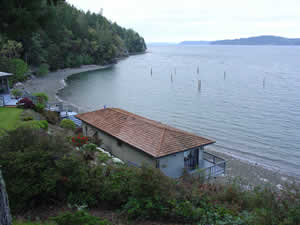 112 N Allie Ahl Lane, Lilliwaup, WA 98555 | (360) 877-9226
This quaint waterfront beach house rental has access to the finest Hama Hama oysters! Located on US Highway 101 just past Lilliwaup in the small town of Eldon, this property has sliding glass doors the entire length of building that reveal a spectacular view of Hood Canal. Alice's Little Beach House has one bedroom, kitchen with dining area, living room with two sofa beds, propane fireplace, and bathroom with shower. Weekend rentals can be turned into a discounted week or two week rentals.
Rates: $$ - $$$ | Dining: nearby
Lake Cushman is a 4,010-acre lake and reservoir on the north fork of the Skokomish River. As a popular retreat for hiking, fishing, boating and kayaking, Lake Cushman's shoreline is dotted with resorts and rental cabins. The lake is notable for its beautiful crystal clear blue water and the huge round rocks surrounding it, as well as thick stands of hemlock, fir and cedar trees.