If your idea of a camping excursion is freeze dried food and dry shampoo – and luxury to you is a bed of moss under your sleep sack or a solar-powered lamp – "glamping" may not hold much interest for you. Glamping or "glamor-camping" as the name suggest, goes WAY beyond the coleman stove and solar shower upgrade. If you crave a star-studded forest canopy while enjoying gourmet camp cuisine and all the comforts of home – bed, pillows, duvet, light switches– glamping may be a great compromise to get outdoors!
Header Image credit: Poppi Photo
One of the best thing about "camping" is relaxing with a final roasted marshmallow and a steaming mug of hot chocolate. Wrapped in a cozy blanket, the tall trees keep you close in the inky darkness beyond the glow of the fire. Far from the glow and clatter of the city, the sky displays a covering of unrealistically bright stars. Good conversation and the people you love surrounding you. Who wants to consider the uncomfortable night ahead? Rocks in your lumbar. Slick "high performance" sleeping cocoons that tangle and suffocate. Never mind the 3:00 AM Call of Nature. Stumbling through the dark stubbing toes and tripping over roots.
Enter glamping. A purist would say if you want the experience of camping you need to embrace the whole experience, not cherry-pick the best parts. Galen Patterson, a journalist with Arcadia Weekly, remarks in a recent article, "in its luxury, comfortable camping (glamping) loses what makes the experience worth the discomfort in the first place." He goes on to say that, "instead of connecting with nature and all of its uncomfortable facets, people are bringing the comforts of home with them, and, in doing so, are sapping the spirit of what it means to connect to the outdoors." Patterson advocates that through discomfort and deprivation, he "finds appreciation and, with it, follows a new zest for life."
Hmmmm. So unless you are suffering you will not appreciate the wilderness? Good riddance. Rough camping has its place – when space is limited in your kayak or you are pack/wilderness camping and every extra ounce needs to be "weighed" in necessity. However, if you can enhance the joy of spending time outdoors by increasing the comfort level – there is no shame in that!
There are plenty of definitions of glamping. Some feel that cooking on anything beyond an open campfire is glamping. Others consider having cell service a mark of glamor camping. Perhaps it's sleeping in a bed off the ground, in a cabin or RV. Whatever the case, glamping is a more glamorous spin on camping and it is bringing a whole new level of interest to the camping scene. Love it or hate it, glamping is a thriving trend that continues to grow.
Give it A Try....
Belfair State Park is a 65 acre, year-round camping park on 3,720 feet of saltwater at the southern end of Hood Canal. It is noted for its saltwater tide flats, wetlands with wind-blown grasses and pleasant beach walking and swimming. Cabins sleep five and are furnished with tables and chairs. Outside is a picnic table and fire pit. Bathrooms and showers are nearby. All cabins are heated, but visitors should take along blankets and warm clothing as evenings can be cool. Belfair cabin rates range from $40 (off-season) to $69(peak). Reserve
Dosewallips State Park offers canvas platform tents for rent. Situated in a maple forest near the Dosewallips River, the tent sleeps up to five people. Made of white canvas on wooden platforms, they are light inside, even on cloudy days. Each tent has three bunks, a futon, lights, table and heater. Outside is a deck, picnic table, fire grill and utility hookup. Bathrooms nearby. All platform tents are heated but campers must bring their own bed linens. Cabins at Dosewallips are situated among evergreen trees looking towards the Olympic Mountains. Each cabin features a covered porch, electric heat, lights and locking doors. Bathrooms are nearby. Tent and cabin rates range from $40 (off-season) to $69 (peak). Reserve
The Hamma Hamma Cabin in the Olympic National Forest is a historic cabin that offers guests a tranquil setting. Formerly a guard station, the cabin was built in 1937 by the Civilian Conservation Corps. The site is nominated to the National Register of Historic Places for the skill and craftsmanship that went into its construction and architecture. The cabin is open year-round. Accommodating up to six guests, the single-story cabin features a living room with a hexagonal bay window overlooking the Hamma Hamma River drainage. There are two bedrooms, one with a double bed and one with bunk beds. The bathroom has a flush toilet. The cabin is equipped with a propane heater and propane lights. An outdoor picnic table, fire ring and pedestal barbecue grill are available for cooking and campfires. Guests provide their own bedding, linens, towels, dish soap, matches, first aid kit, toilet paper and garbage bags. Reserve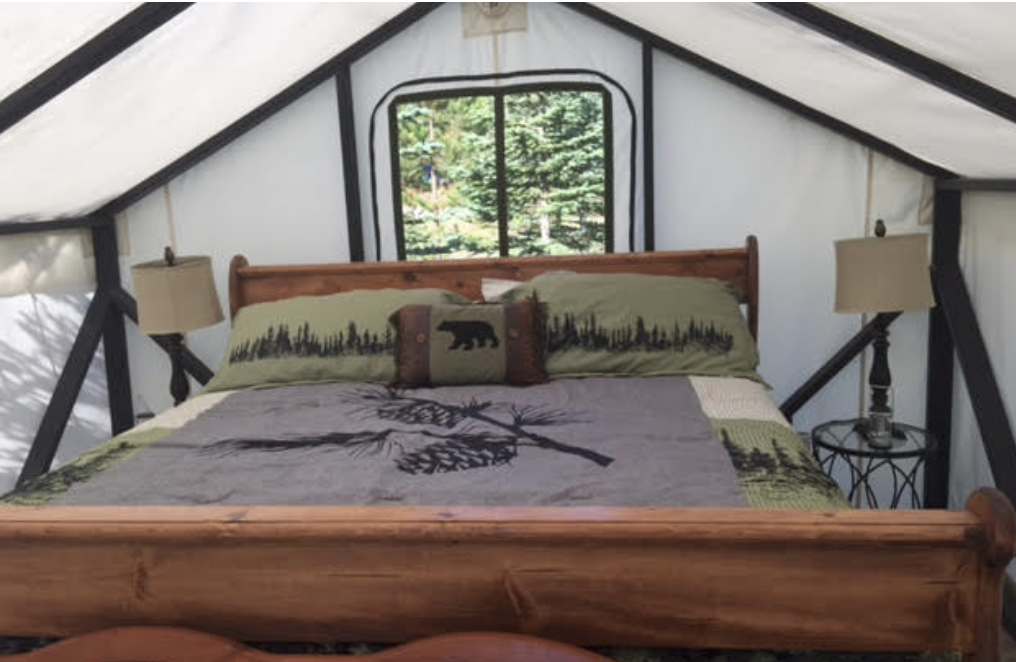 Located in Union, the Pebble Beach Cottage has two beds, one bathroom and can sleep up to 5-6 guests. Sitting approx. 75 feet from the water it has a beautiful view of the canal, and surrounded by a cedar forest. This carriage house is a bed and breakfast style stay with a part-time caretaker on sight. Guests enjoy privacy of a vacation home, (as this property is completely separate from the main house), yet access to concierge services. (Rate $195) Reserve at glampinghub.com.
The Tahuya Adventure Resort is located in the heart of the Tahuya Forest past Belfair. Featuring campsites with hook-ups and luxury platform tents, this is glamping heaven! The Log Cabin tent features a king size log bed, bunk-beds, oversized chairs and tables, pellet stove, carpet, refrigerator, microwave, and a coffee pot. Each site has an outdoor picnic table and fire ring or you are welcome to use their covered kitchen. (Rate $500/2 nights) Reserve at tahuyaresort.com.
Hood Canal Events, based in Union, can provide unique glamping experiences. Offering everything from a Hood Canal beach glamor picnic (great for intimate gatherings, family picnicking, lounging, or celebrations) to a fully catered overnight trip, they can arrange special requests your group may have. Hood Canal Event's packages include furnishings, amenities, activities (kayaking to mushroom foraging or live music) and a chef for locally prepared food and beverages. Overnight glamping packages are available. For information on rates or customizing an experience, call (360) 710-7452, or visit hoodcanalevents.org.
Above are just a few ways you can elevate your "glamping" experience on Hood Canal. There is no wrong way to do it. If you prefer backcountry camping, with your home on your back and no connection to civilization, the Olympic National Park has that too. Camp for days and never see another soul in the backcountry areas. Talk about "finding appreciation."
If camping or glamping is not your thing thats cool too. Hood Canal and South Puget Sound have wonderful guest lodging and rentals right on the beach – with power and flush toilets. Visit explorehoodcanal.com/lodging for a complete list that is updated weekly.
Whatever you choose, just get out there and create some great memories – stubbed toes or not!